KULKAS SIDE BY SIDE SAMSUNG RS63R5561B4 689L SPACEMAX™ TECHNOLOGY
Always fresh food, wherever it is
All-around Cooling
Make sure that all your food is properly cooled – wherever it is in the fridge. An All-around Cooling system continually checks the temperature and blows out cold air. It cools the fridge evenly from corner to corner, so every item of food stays fresher for longer.
Holds in the cold for lasting freshness
Metal Cooling
Keep your food fresh, even if you frequently open and close the door. The Metal Cooling duct in the rear wall helps to maintain the optimal internal temperature. It retains the cold and prevents the loss of cool air when the door is open. And it quickly restores any heat loss when it's shut again.
Neatly store more of your favorite wine
Wine Rack
Organize and neatly store more wine. A Wine Rack is designed to safely store bottles of wine, so they don't roll around and are easy to reach. It can be installed in either the upper or lower fridge compartments. So you can easily enjoy a glass of deliciously chilled wine whenever you like.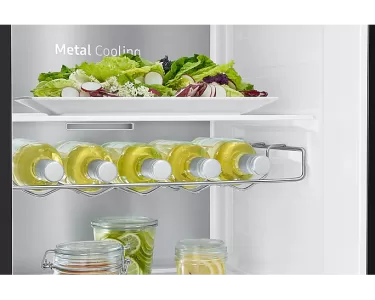 Fast cooling and freezing on demand
Power Cool / Power Freeze
Enjoy a rapid cooling performance. At the touch of a button, Power Cool blows intensely cold air into the fridge to quickly cool your groceries or favorite drinks. And Power Freeze delivers a fast blast of cold air into the freezer. It's great for freezing or firming up frozen food and making ice.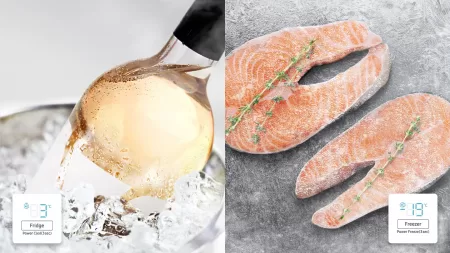 | | |
| --- | --- |
| Type | RS63R5561B4 |
| CAPACITY | |
| Gross Total(Liter) | 689 ℓ |
| Egg Container(Egg Tray) | Yes |
| Deodorizer | - |
| Shelf Material | - |
| FREEZER FEATURE | |
| Ice Maker | Manual Indoor I/M |
| Interior LED Light | Yes |
| GENERAL FEATURE | |
| Door Alarm | Yes |
| Compressor | Digital Inverter Compressor |
| EXTERIOR FEATURE | |
| Color | Gentle Black Matt |
| Display Type | Internal(Ice Blue) |
| PERFORMANCE | |
| Vacation Mode | Yes |
| DIMENSI FISIK | |
| Height | 178 cm |
| Width | 91,2 cm |
| Depth | 71,6 cm |